I visited the city of Matsuyama on Shikoku island in Spring 2009. It's about six and a half hours by train, with one change in Okayama. One of the sights I saw there was Dōgo Onsen, a famous hot spring & home to a public bath house that the bath house in Spirited Away is said to have been based on. (Different websites claim different places.)
It's a beautiful, traditional, wooden building that dates back to 1894, making it one of the oldest bath houses in Japan.
What's nice about Dōgo Onsen is that depending on how much you want to spend you can opt for the basic bath or something a little more luxurious. For a few hundred yen more you can rent a yukata, get some green tea to drink in a relaxation room and access a less crowded bath.
Having had enough green tea to last a life time I opted for the cheapest option and was happy to use my own soap and towel. Unfortunately I forgot that the busiest time is around 4-7pm as everyone wants a pre-evening meal soak. It wasn't the end of the world, but it meant doing that awkward naked shuffling around other people in the locker room and sitting with a lot of other people in the water.
Unlike most of Japan, this is a site that gets so many foreigners the staff speak perfect English before you even open your mouth and the signs come in four different languages. After a long time in Shimane I was shocked to see so many white people and hear so much French and German eing spoken.
After paying a staff member led me through some stunningly decorated hallways to the locker room. I got undressed and went through to the baths. It was time to have a major chill out. The woman's bath was quite small but the atmosphere still made you feel like royalty. It was a few years ago now, but I think the walls were covered in a dark marble on the lower half and with some light colored mosaic tiles above. Also on the walls were some scenes of Japanese landscapes and wildlife made of blue and white ceramic tiles. In the bath you could sit on a step and lean your back against the side. At various points hot water is piped in along bamboo tubes and left to fall in from a small height so you can always hear the sound of water trickling. Heaven.
If you sit and take a look at the scene you can see people washing around the outside of the room (you have to wash before you get in the water), people coming in and out and dozens of old ladies having a natter in the pool. There's a great atmosphere and sounds of people talking and water being splashed on the tiled floor.
I was enjoying a moment in a happier, more relaxed place without marking or lesson plans when I heard some splashing close to me and felt the water get disturbed a little bit. I opened my eyes and saw a very enthusiastic little Japanese woman staring excitedly at me.
"Oh herro! Excuse me."
"Mqphg?"
"Excuse me, do you speak Engrish?"
Now please don't get me wrong, I'm a kind, patient ALT who is always up for helping the over 50s practice their language skills or tell them about me and my country but there are limits people. Appraching me then felt very inappropriate. She could have waited until I had my eyes open or was making eye contact with people or something. Sitting and relaxing with your eyes closed is surely a sign not to disturb someone right?
I know going to the onsen is a social experience. If you go on your own (doing things alone is quite shocking to Japanese people) then people assume you need and want some company. Plus they will be really curious about you as a foreigner. But still...of all the times! At that point I really wanted a break from the constant questioning and attention for a while, but at least she was nice and polite and didn't stay too long.
After leaving the onsen I felt so clean and refreshed. Darkness had fallen and while the onsen didn't have the air of Spirited Away so much in daylight, it definitely did after sunset. It stood out majestically against the dark blue sky and light shone out invitingly from all the little windows. Lanterns were placed around the building and some instrumental music was played quietely from speakers hidden in the entrance. I half expected to turn around and see No Face or Chihiro.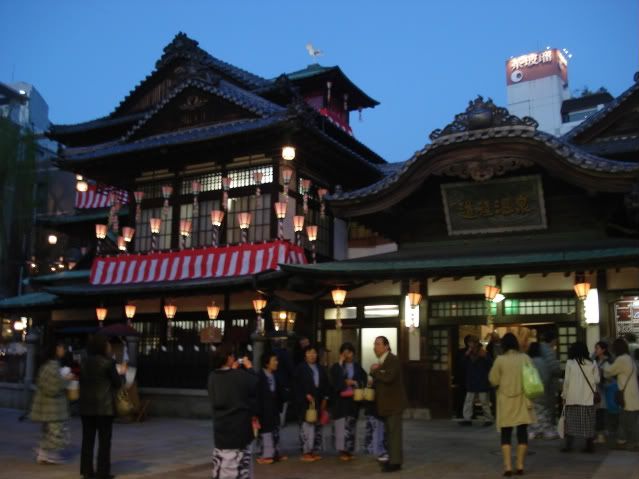 The onsen is very famous in Japan, so the street was lined with tourists and human rickshaws. Coaches kept winding their way up roads nearby, but it never felt tacky or annoying. Somehow the busy touristy stuff felt warming. Exciting. I made my way down one of the main streets at a snail's pace, stopping in shops to buy omiyage and ending up in a noodle shop to eat my first "niku udon" (thick noodles with meat which Matsuyama is famous for). After I bought a can of beer and some ice cream and walked back up the hill to the hostel. It had a tree house in the grounds so I snuck on to one of the platforms, sat on a swing and took a hearty swig. It felt great. I felt great. The view was great. Everything was great! That night is one of my happiest memories of traveling in Japan.
You can read more about
Dōgo Onsen
here
or learn how to use a public bath or hot spring in Japan by
clicking here
.
x